In the Renault 4 Garage:
The restoration of a 1967 Renault 4 modified with a R5 Gordini engine and 5 speed gearbox. And you thought you were daft!

Frederick the frog demonstrates how to fix common R4 problems, and how to maintain your Renault.

What to look for in a Renault 4, how much to pay, and what they are like to drive.

Also a little about history and how to find spare parts.

The MK1 Renault 5 was the world's first supermini. It was largely based on the greasy bits from the Renault 4 but had a smaller and lighter body. Rare now so worth restoring.

My Renaults from a TL to an F6 van, many GTLs, and even an elderly 4L.

Features the restoration of Ermintrude the GTL and her tour of Europe.

Lucie owned a Citroen 2cv before her Renault 4. She drove it across North Africa and the Sahara desert.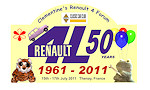 Events
Renault 4 forum - latest topics:
Back by popular demand - Cars (and parts) for sale on eBay
Outside the Garage:

Save money on Renault 4 repairs by buying a MIG welder and doing your own welding. The MIG welding website includes a tutorial complete with videos.

Completely standard road going Renault 4s racing against Citroen 2CVs at Santa Pod.
Links to other automotive and Renault websites can be found on our resources pages
Email Clementine's Renault 4 Garage
Disclaimer:
This site was written by a cloth cat called Clementine. While it might be fun to see a stuffed cat puppet in court, if you believe anything she has to say you should really be thinking about suing your psychiatrist.
Clem has conformed enough to do a privacy policy. Whatever you do, don't try to sue Frederick the Frog. He's sensitive. And there is a precedent for a plague of frogs....