In the Renault 4 Garage:
Renault 4 forum - latest topics:
Brake disc and pad replacement
French fancies from summers past
Renault 16 De Carbon rear shock absorbers for sale
ligth blue R4 can be seen in Grand Design series
Rear handbrake cable installation…..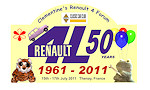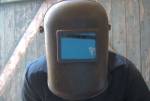 Save money on Renault 4 repairs by buying a MIG welder and doing your own welding. The MIG welding website includes a tutorial complete with videos.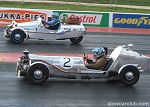 Completely standard road going Renault 4s racing against Citroen 2CVs at Santa Pod.
Email Clementine's Renault 4 Garage
Disclaimer:
This site was written by a cloth cat called Clementine. While it might be fun to see a stuffed cat puppet in court, if you believe anything she has to say you should really be thinking about suing your psychiatrist.
Clem has conformed enough to do a privacy policy. Whatever you do, don't try to sue Frederick the Frog. He's sensitive. And there is a precedent for a plague of frogs....
Advertisements