Messages

569
Location

South Coast
Had this thought for a few months now and as its now 12 years from when I first set out to rebuild this car, I am at the point to class that I failed.
A 1985 Nov reg'd Renault 4 GTL
5 owners from new i believe, same family since 2005.
In 2009 I lost my sister to a car crash and this was her first car, Rene C303, named after Rene from Hello Hello because all the girls loved him but he was a bit ugly.
I hoped to rebuild this r4 in her memory.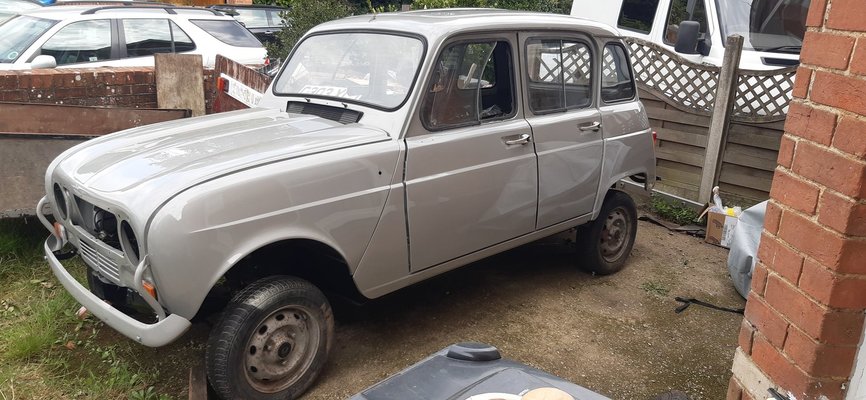 In 2014 he went to Renospeed to have the chassis replaced and rust cut out.
From 2015-6 till 2018 he was stuck in paintshops who have done a poor job in my opinion and I wish I trusted my gut and sent him to Renault Reborn instead.
In 2017 I bought a house to give me space to rebuild him but my other half fell deepy sick and my wage packet was just enough to keep us living day to day and due to work and her sickness and the house I never touched the car till I had to sell up and move back home in 2019.
During the 2020 lock down I managed some stuff, only to find the redone seats had had a mouse call one home and I failed to store the engine correctly thus resulting in stripping it down to make sure it was gunna be okay.
Sadly lockdown has stopped me from getting to my dad's shed so not to put my parents at risk.
The engine was cleaned by a local engine rebuilder and the head and bores all skimed, rehoned, all that jazz.
There are a lot of parts with this car as I broke another r4 for parts and some NOS stuff.
Included are 5 sets if wheels
Normal gtl steels, banded steels but need refurbing as they don't hold air for long
A set of tri stars which have been owned by a number of people
Nos in box wolfface slotmags
Plus a set of smoothies
Due to the car being restored in my sister's memory many parts are house of kolor purple,
Looking for £6000 as that what the paint cost, not interested to split, it all goes, for that price.
Yes I know you can buy a r4 ready to go for less
I have in theory bought two r4s for the cost of Rene C303.
Prob will come to my senses but after 12 years and a soon to be wife who wants to start a family and owning another classic car, I am gunna have to admit defeat.
*I'll add more photos after work its hard work to add photos via moblie*