My Renault 4 Adventures
I have run Renault 4s since 1992 on and off. Occasionally I feel I should run a sensible car but soon get bored and revert to the wonderful Renaults. I've been driving Renault 5s recently as well.
Current:
Renault 4 Rodeo
Bought a Rodeo while I was over in France for the 50th anniversary meeting.
Technically it is an ACL Rodeo 1A as it is a 1972 car - they became Renault Rodeos later. It has a plastic body on a Renault 4 F4 van chassis and should be handy for trips to the beach.
The car sat around for some years but now I'm keen to get an MOT.
---
Renault 4 F4 Estate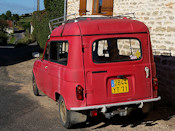 ---
Renault 5
My latest Renault 4 is actually a Mk1 Renault 5. There are hardly any of the poor loves left so it's a shame to keep pinching their engines for our Renault 4s. I'm repaying my dues by restoring one (it's fab to drive too - that's the other reason).
This one is really nice apart from some tiny little bits of rust, and they are being fixed in the Renault 5 restoration.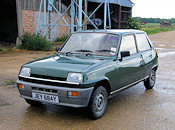 ---
Renault 4 Gordini
I've been messing around with Renault 4s for years. I like them but sometimes they can be a bit slow and noisy. I felt if I was going to retore one properly I may as well look at improving those things.
Sold in 2021. It was too good and I wasn't using it for normal R4 things.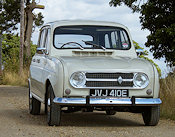 Previous:
Renault 5 Mk2 Super Cinq
I've been running around in a Super 5 in the summer of 2012. It's a fuel injected 1.4 Campus from 1994 and I really like it. It is quiet, small and easy to park, has good ride, and is very reliable despite getting no attention at all.
The interior is scruffy with bad seat wear after only 65,000 miles, and there is rust around the windscreen from when it was replaced badly. Sills could use some work too. I will try to keep it going as a winter R5 and use the other R5 in the summer.
Given away in 2016.
See Super Cinq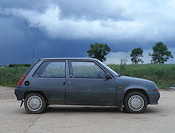 ---
Blanche the 1990 R4
I offered to fix the head gasket on Blanche and it turned in to a mechanical restoration.
Sold 2013.
See: Blanche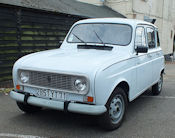 ---
Renault 5 Monaco
The idea behind the Monaco was to replace the Campus with something a bit more solid that will be worth spending money on. Unfortunately Monacos suffer from carburettor trouble - the base of the carburettor warps causing air leaks that result in a weak mixture. I fixed it a bit with a new carb and gasket then gave up and sold it to Pepper. Turns out the new gasket needs heat to seat properly and the car was fine when Pepper got it home.
Sold 2013.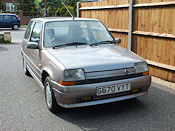 ---
Ornella the 1965 Renault 4L
A proper 4L. Ornella is one of the most original cars remaining from the premier series of Renault 4s. She is a 1965 R1120 (that's 750cc, 6 volts, 3 speed, and ugly grille to the rest of us). Far too slow but far too original to modify, she was sold in 2010.
---
Ermintrude the Renault 4 GTL
I was only looking for a pair of headlamps when Ermintrude was advertised.
Ermintrude was a rare find - an almost perfectly straight Renault 4 that had been carefully looked after mechanically throughout her life. Rust had taken a hold in all the normal areas, and the car would have been sold for scrap had I not rescued her.
Ermintrude's body was removed from her chassis for a thorough restoration at the end of 2003, and she has since completed a 4500 mile trip around Europe. Sold in 2010.
---
Rosalie the Renault 4 GTL
I decided to become self employed in late 2002, and bought Rosalie to replace my Peugeot 406 Diesel and save money. Rosalie had been owned for some time by a lady in London and was stored in an underground garage which accounted for her fine condition.
Rosalie's travels included a trip to Loch Rannoch in Scotland for New Year in 2003. A friend, Robert, bought Rosalie from me at the end of 2003.
---
Florence the Psychedelic Renault 4 TL
Florence was my first Renault 4. I swapped a CD player for Florence together with another R4 in 1992.
Florence was a wonderful car. In her four year career she was used as a wedding car, became a film star, and toured the former Czechoslovakia almost making it as far as Russia. Florence finally retired in 1996 when her rear chassis rusted away.
---
Margot the F6 Van
Margot had previously been owned by nuns in Sheffield. I think they were called 'Sisters of Charity'. I bought the car from my uncle in 1998. The photograph was taken during a tour of France. Our bedding is drying on the boot lid - Margot leaked, and the bedding started to smell of cheese after a couple of weeks.
Margot's rear suspension mountings had rusted away by 2000, and I was on the verge of moving house so didn't have time for the repairs. I sold the van to an engineer from Lotus who planned to use her as a wheelbarrow around his building plot.
I only found 2 photos of Margot (the French name for Florence incidentally) so didn't have enough to make any detail pages.