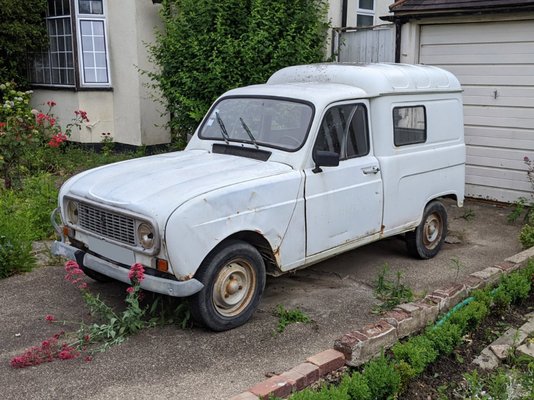 1983 Renault 4 F4, 108,472 km, MOT expires 22.08.2020
I bought this van from the first owner in the UK who imported the car from France in 2019 I believe, where it was used by a gardener as her daily commuter and transporter of dirt and plants mainly I imagine, which explains its current interior condition.
My plan was to turn it into a farmers market coffee truck (it has just the perfect look!), but things happened and it never got anywhere. I kept it on my driveway for a few months now and the reason I eventually decided to sell is that I was offered a job abroad from July, so with plenty of hesitation I am letting it go find a new home.
The van had a brand new clutch installed for me when I bought it, so that I could drive it from Kent all the way to West London and it was magic! It felt like a trip in time, pure joy, especially along the narrow, forests roads in the countryside.
Visually it has plenty of character… or went through a lot you might say. For me it was exactly what I was looking for, but the new owner may want to invest a day or two into cleaning. Technically it starts first time and drives really smooth. There's plenty of energy in this little engine and driving through some bumpy roads feels pretty comfortable not counting the noise obviously. With a new clutch the gears are super smooth and the most important bit - chassis is solid, no holes there at all.
I have recently visited Mr Mike Diggins from Classic Brent Autos to take a professional look at the van and advise what I should look into if I decided to keep it longer. He spent around 40 minutes thoroughly checking and was genuinely impressed with how solid the van is. Apart from the obvious cleaning and body work (which I wouldn't touch personally as I just love its patinated, farmers character) he noticed the following bits needing attention:
- Exhaust leak under wing
- Oil leak (rocker cover gasket, breather)
- Right track rod end
- One side holds a bit less on the hand break
- Wheel bearings, both rear sides
- Front lights
- Brake shoes
- Rusty brake pipe rear
- Front shocks, bushes worn
- Both top ball joints, worn rubber
- Welding underneath to be sealed
- Under side to be stone chipped and protected
- Indicators to be fixed in
- Typical engine service, filters, fan belt
The car is ready to drive and to go around town, but I'd definitely perform above repairs if I kept it. I believe all of these is a piece of cake if you know how to do it, otherwise give Mike a call, he's a top guy!
You can see more photos here
https://www.flickr.com/gp/lazytroubles/2MEvQz
Feel free to call with any questions and to arrange a viewing. I'm in W5 London.
Tel. 07716447016
£2,550