My first MG was an MGA called Helga. I bought Helga from a Texan scrapyard back in 1992, and restored her while I was at college.
Helga was the reason I started driving Renault 4s.
I had been running a posh VW Polo as an everyday car, but it was worth about £1000 which I thought would be better spent on the MGA. My step brother had gathered together two Renault 4s - a really rusty GTL and a nice TL. He didn't have the time to fix them and swapped the pair for my CD player. The Polo was sold, and I ran
Florence the Renault 4
on a shoestring for the next 4 years.
Anyway, I still own Helga - she has an easy life, only coming out in the summer when it's not too wet - the hood is useless. Find out more about Helga in
http://www.vord.net/cars/helga/mga.html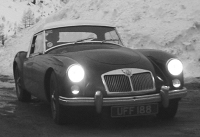 After Helga was finished I started work on an MGB V8. It wasn't anything out of the ordinary. The engine was 3.9 litres, but otherwise it was much the same as other conversions.
I wasn't happy with it. There were a lot of problems, particularly poor handling and the need to turn the steering wheel a quarter of a turn to keep the car in a straight line under acceleration. When the engine blew up I decided to make some more changes.
The car has been off the road since 2001. It's got a new engine. Still 4 litres but tuned this time. I've changed the gearbox and back axle for sturdier units, and have redesigned the front and rear suspension and made a custom exhaust.
After a short break to restore
Ermintrude the Yellow Renault
, the V8 is my number 1 project The car is going back on the road this summer. It's nearly finished and just needs putting back together. I'm sure to report on it after completion.
You can see the progress on the VORD.net
MGB Conversion pages
:shock: