Start - Europe - North Africa - Sahara Desert - Finish at Banjul
---
Plymouth-Banjul: Driving through Europe
Plymouth to Banjul in a Citroen 2CV by Lucie Mathiszig.
---
Marigold, who had never broken down with us ever, starts to give us a hard time straight away, and after 5 hours driving through cold and grey France she popped and died on us south of Portieres. We are towed off the motorway. Carburetor blocked.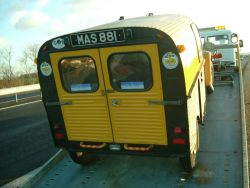 It is soon mended and after handing out English Christmas cake to all the local mechanics (which they all immediately throw in the bin), we are off and celebrating. Too soon. Next day, same story but we manage to crawl to a garage ourselves.
Day three, in the snow of northern Spain, near Burgos, Marigold finally gives up completely. By now Andrea and me can dismantle and clean a single choke carburetor on a motorway lay-by in the freezing cold in less than 8 minutes, but Marigold is not getting back to life and we are escorted of the motorway by a snowplough.
I am crying at this point, thinking of all the hard work we put into the trip and realizing that unless a miracle happens we have to face humiliating defeat so early on.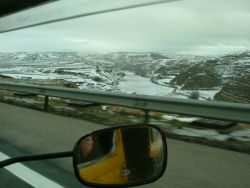 By chance we meet another team from the rally who helped us to the next town and give us moral support. European Rescue is very unhelpful this time and Spain is shut for the next few days for New Year's celebrations. We check everything we can, from fuel pump to petrol supply and dismantle and reassemble the carburetor a number of times.
Marigold now starts but doesn't sound ok and it is too dangerous to carry on in the fog and snow as we never know where she'll stop again. Both of us suspect it is a fixable problem but as we have to get to Gibraltar for our first group meeting, things are not looking good.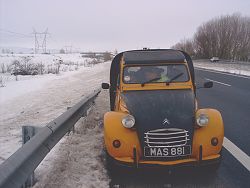 2 days ago we had an external fuel filter fitted in the first garage. And I am eying it with suspicion. Could this be the problem? After hours of deliberation and many phone calls we are ready to leave Marigold and carry on to Gibraltar with the other team when I decide to make one last phone call to Steve Hill.
He advises me to take out the internal fuel filter (that little gauze bit). That done Marigold springs back to life and we nervously carry on, now with team KIA BESTA Van as our escort. They stick behind us as we drive through mountainous northern Spain in thick fog. Marigold only makes it into 2nd gear on some hills and with no hazard lights it is a relief to know we have a car protecting us.
First hour fine, we are hopeful: next few hours also ok, we are getting happy: past Madrid into the night and Marigold is hitting 110km down hill. We find a motel around midnight near Vallepenas and crawl into bed, exhausted but quietly optimistic. Tomorrow is another day!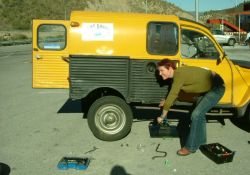 It is New Years Eve day, sunny and warm. We leave early and head south towards Granada past the Sierra Nevada towards Malaga. We are in high spirits, Marigold is purring like a cat, and when one of our back wheels disintegrates at high speed (for a 2cv) we are not even bothered. Quick wheel change and off we go, there is no point now in worrying about entering Africa with no spare wheel.
We get to Gibraltar early evening and meet some of the other teams, including team oasis with a 1975 AKA van. Andrea and I are hysterically happy. We've made it to Gibraltar, 1200 miles, four days, 3 breakdowns, but there is a real chance now that Marigold might make all the way.
---
Next: Across North Africa
---
This story was reproduced with the kind permission of the author, Lucie Mathiszig.
Find out more about Lucie and Andrea's adventure on www.team-marigold.com
The Plymouth-Banjul Challenge is run to raise money for charity. It's not too late to donate to Lucie and Andrea's charities:


Site Savers International
work in the world's poorest countries to restore sight.


Africa Educational Trust
work in Africa to provide educational materials and promote basic literacy.