Start - Europe - North Africa - Sahara Desert - Finish at Banjul
---
The Plymouth Banjul Rally - Across North Africa
Plymouth to Banjul in a Citroen 2CV by Lucie Mathiszig.
---
After a bouncy New Year's Eve in the main square of Gibraltar, we meet up with all the other teams in our group. It's nice seeing all the different cars, lots of old Peugeots, old Mercs, old BMWs, a couple of VW Golfs. There are 2 old Volgas from Latvia, as well as an old Beetle, 4 ambulances, a school bus and more, But Marigold is the star!.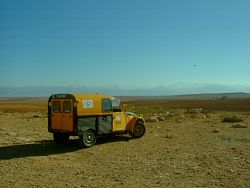 The next group meeting date is Dakhla, Western Sahara, over 1000 miles into northern Africa.
We leave on the 9 o'clock ferry the next morning and get through the Moroccan border with little problems. Most teams are heading for Fez, in the Rif Mountain range, but as Marigold struggles with anything uphill, we decide to head toward Rabat.
Still in convoy with our loyal friends Clemo and Will and their Besta van, we run into the proper Paris-Dakar rally (now called something like telefonica Barcelona-Dakar). They shoot past us at high speed followed by their huge support vehicles. Some of the kids lining the streets, waving, are a little confused when they spot Marigold tucked in behind these convoys.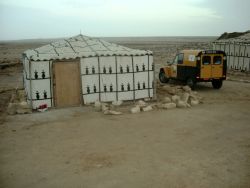 We make it to Rabat at nightfall. It's very cold once the sun sets and our first night camping is quite uncomfortable. My little espresso machine comes in handy the next morning, breezing life back into us and is very popular with some of the other teams. We see nothing of Rabat other than its city walls and head off south direction Marrakech.
We stop in a little town off the main route and have the first glimpses of the real Morocco. Horse drawn carriages everywhere, very few cars, goats stew with chickpeas for lunch, back in the car and on the road and getting to Marrakech in the afternoon.
It's nice to meet up with many of the other teams on the campsite, some feel like old friends already. Marrakech is a great city and we would love to stay a few days but, even though Marigold is doing really well, we are one of the slowest teams, so we reluctantly decide to leave the next day to make it for our next meeting in Dakhla.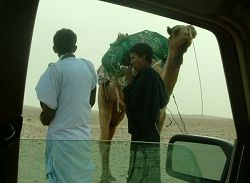 We stock up with fresh food and essential alcohol supplies and hit the road. The next 3 days are very hard work with long distances to cover. We struggle through the mountains on the way to Agadir, make it to Tiz-Nit that night, leave really early the next day and drive, drive, drive the long, monotonous road down to Laayoune. Just north of Laayoune is a fabulous campsite called Le Roi Bedouin where we sleep in a Bedouin Tent and have our first camel stew.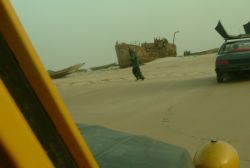 Next day we carry on toward Dakhla. The landscape is really bleak, flat lunar like desert and then along the skeleton coast where shipwrecks litter the abandoned beaches. We battle through our first sandstorm and everything is covered in fine sand.
We are traveling now with Nick and Anne and their old BMW and meet up with Ben and Paul in 'Wolfgang' (1979 Merc) and Dan and Mike in 'Klaus' (BMW). We make it to Dahkla in good time (for once it's still light) but are concerned that a few other teams including our loyal escort, have not caught up with us.
Most mobile phones are now dead or at least work only occasionally but we manage to get hold of them and the news it not good. The Kia van has broken down and the prognosis is not good. They are being towed the 400km to Dahkla and arrive early next morning. But despite a huge effort by another team who happen to be mechanics, the van never gets repaired, is sold and the team and all their possessions distributed to other cars. This is the first casualty.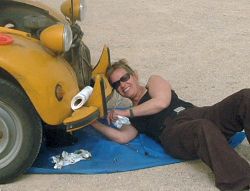 It's a busy day for all of us. Together with Team Oasis in the other 2CV Van we do an oil change and other essential maintenance.
Dakhla is the last town in Western Sahara and tomorrow we are crossing the Mauritanian border, then through No Mans land and a minefield onto the supposedly outlaw town of Nouadibou where we'll have another rest day before entering the desert.
We form ourselves into small convoys of 4-6 cars, fuel up, fill up all the jerry cans and early next morning we are heading off. The winds are really strong and Marigold struggles to get over 60km/h. We have a quick lunch break and re fueling stop by the roadside and notice that the ground is covered in dead locusts as far as one can see. A few stragglers have caught up with us and after a quick game of desert golf we link up with most cars at the border.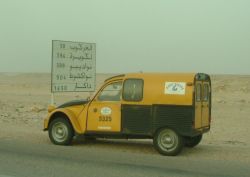 The tarmac ends at the Moroccan side and once through their border we carry on along a dirt track through the minefield. Here, out of all places, the Ford Escort breaks down and has to be towed through the Mauritanian border. After 4 hours at the border we head for Nouadibou as it is getting dark, traveling along the rail track of the Ore train (apparently the longest train in the world). The road is abysmal and 'Wolfgang' (the Merc) is towing the Escort which makes it very hard work.
We enter Nouadhibou and traffic is complete chaos with cars, which look like straight out of Mad Max, driving on both sides of the road, most without lights and trying to cut into our convoy of 6 cars. We have somehow acquired a guide who is offering to take us to the campsite in town. He keeps on stopping at the most difficult places as we struggle to stay together. Marigold is overheating and it is difficult to get her into gear without painful crunching.
Stress levels are high and suddenly there is this loud crash and shattering of glass. A local guy has driven into the back of Anne and Nick's BMW. We all get out and in seconds there is a crowd of 30-50 people, shouting and pushing. It feels fairly hostile, Anne and Nick look shell shocked and all, including the guide, want to leave as soon as possible.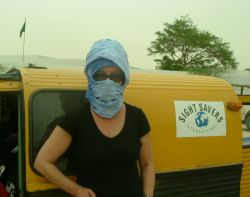 After what seems hours but is actually only a few minutes we can carry on even though the car which hit the BMW is clearly badly damaged and is following us demanding money. We hurry to our campsite which is more of a dirty dust bowl, park up and set up camp and breeze a sigh of relief.
We are all dog tired and hungry and decamp to the nearest restaurant. It turns out to be the local brothel, and after consuming vast amounts of beer (this is supposed to be a dry country) waiting for our dinner, we come to realize that the food will never come.
It is midnight now and we struggle back to our camp and manage to cook a midnight feast for 9, made of pasta, tuna and sweet corn, washed down with some warmed up vodka which was earlier decanted into water bottles. We all sleep well that night.

After a day in Nouadhibou being harassed by the guy who caused the accident, our convoy of 9 cars plus a guide in a Toyota pickup is setting of for a 3 day trip through the desert, then along the beach to Nouakchott where we hopefully meet up with the other teams.
---
Next: Across the Sahara
---
This story was reproduced with the kind permission of the author, Lucie Mathiszig.
Find out more about Lucie and Andrea's adventure on www.team-marigold.com
The Plymouth-Banjul Challenge is run to raise money for charity. It's not too late to donate to Lucie and Andrea's charities:


Site Savers International
work in the world's poorest countries to restore sight.


Africa Educational Trust
work in Africa to provide educational materials and promote basic literacy.