Start - Europe - North Africa - Sahara Desert - Finish at Banjul
---
Plymouth Banjul - Marigold the 2cv Reaches the Finish
Plymouth to Banjul in a Citroen 2CV by Lucie Mathiszig.
---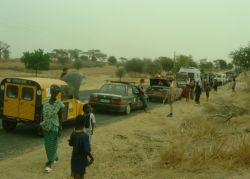 We are back on the road again. With our escort our large convoy is slowly crawling through central Senegal in the boiling heat. We pass through beautiful landscape full of Baobab trees and villages with thatched huts. On the roadside are many animal skeletons, and vultures circle overhead.
Driving in such a big convoy is difficult, the roads are bad and is one of the longest days we ever have to do with Marigold. She is definitely suffering and there is little time to give her a break. Where ever we stop we immediate turn off her engine, open her bonnet and fan her in the vain attempt to cool her down.
The roads are very dusty and we constantly have to clean our windscreen. As we have no windscreen washer system, one of us has to lean out the car and throw half a bottle of water over the windscreen. The driver then has to activate the wipers which can only be done by firmly whacking the dashboard roughly where the windscreen wiper motor is situated. Sluggishly the wipers fall into action and we can see again.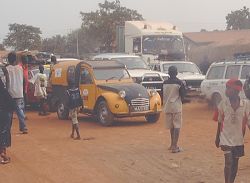 We stop for the night in a small village, Toubacouta, and make the Gambian border the next day. As we enter the immigration hut all of us handed a 'you've made it and well done' letter. We can't quite believe it but we are nearly there!!!!
We get to Barra where we have to cross the river Gambi and then it's a short drive into Banjul. Getting onto the ferry is one of our more difficult missions of the trip. We wait and wait and wait. Every time a ferry arrives, which isn't very often, pandemonium breaks out as there is only space for about 18 cars and once the dust settles we appear no closer to getting on one. Finally after 10 hours and endless 'petit cadeauxs' we practically force ourselves onto the ferry.
On this little shabby ferry, across the choppy waters towards Banjul, our group really celebrates. We have done it! Over 6000 km, lots of hard work, great adventures and many new friends and most importantly, lots of fun.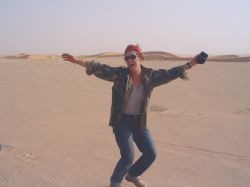 Andrea and I can't quite believe that Marigold has made it. I truly love Marigold at this point.
The Gambia and Banjul are a bit of an anti climax with all the tacky tourism and hustle which goes with it but we all enjoy the creature comforts. The rally's victory parade through Banjul brings the town to a standstill and is great fun but we are all already homeward bound. It's finished and we all, for the last time, sort out our beloved cars, and get on the plane, back to reality.
So far, the auction has raised over £140000 pounds for various different charities which is a phenomenal success.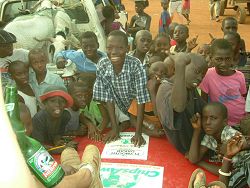 As for Marigold, she was bought at the auction for £ 400 by Geri and Maurice who run the Safari Garden Hotel in the Serre Kunde and who are part of the organisers of the PDC. Now she can see out her days in the sun where she can be cared for and loved, and hopefully greet many future PDCers to come.
She has raised nearly £4000 for Sight Savers and The African Educational Trust. If you have a few pounds to spare please make your donation via our website www.team-marigold.com
Would I do it again: yes
In a 2cv: definitely
But there is only one Marigold and for my next adventure, I'm looking for an old Mercedes Benz.
Oh Lord,,..
This story was reproduced with the kind permission of the author, Lucie Mathiszig.
Find out more about Lucie and Andrea's adventure on www.team-marigold.com
The Plymouth-Banjul Challenge is run to raise money for charity. It's not too late to donate to Lucie and Andrea's charities:


Site Savers International
work in the world's poorest countries to restore sight.


Africa Educational Trust
work in Africa to provide educational materials and promote basic literacy.