Start - Europe - North Africa - Sahara Desert - Finish at Banjul
---
Marigold the 2cv in the Plymouth-Banjul Rally
Plymouth to Banjul in a Citroen 2CV by Lucie Mathiszig.
---
This is the story of Marigold, a lovely 1969 AZU 2 CV van, and her last big adventure.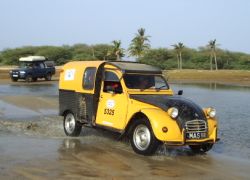 In 2002 I was given Marigold by a family friend who had owned her for the past 30 years, but was now in his mid eighties and too old to carry on driving her. I dumped her in my mother in law's garage and tried to forget about her. A year later she was on my driveway and I had to face her future.
I felt that I should take her on one last big journey as I could never sell her, but couldn't really keep her in central London with nowhere to park, etc. I have also have to admit that I always considered 2cv's kind of silly cars. I was obviously in for a big lesson!
Having got her through an MOT with no problems I had to face the DVLA. Marigold had never been registered in any country, never been insured and had only the original Dutch papers from 1969. A different chassis and engine had been fitted at some point and the DVLA went mad. They threatened me with Q plates and then refused to register her at all.

This went on for months and months and in the end Citroen HQ provided some kind of evidence for her engine number and she ended up with a 1958 number plate! Sweet - or stupid!
It's now November 2003 and there she was, all sorted and looking pretty, sitting in the cold rain on my driveway, slowly dying.
Ok, ok, this is where the Plymouth Dakar bit comes in. At some point I stumbled over an article about it and I immediately knew that this was it. The Plymouth-Banjul Challenge is a charity rally and the rules are as follows: take an cheap second hand car, drive it from Plymouth or wherever you start from, through France, Spain, Morocco, Western Sahara, Mauritania, Senegal, to Banjul in the Gambia. All cars that make it to end destination are auctioned in aid of local charities. Additionally, cars can raise money for other charities. The rally was in it's third year, and Marigold fitted perfectly. Old car, LHD, doing something good. Maybe just a little too old....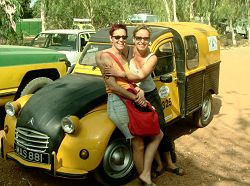 I applied with my friend Andrea and spend the next few weeks in feverish anticipation. They had 1000 applications for 200 places. We were one of the lucky teams and got in!
The next few months were full of doubt. A 2cv was considered by many to be a good choice for this kind of trip, though Marigold was a very old style model with drum brakes, and a pre historic Ami 6 engine.
I trawled her from one 2cv garage to another trying to find some help in getting her ready, To be fair, they all liked Marigold, but in the end they shook their heads, clearly thinking we were mad to attempt a 4000 mile journey in such a car.
It was 2CV Specialist Steve Hill who gave her the thumbs up and helped us get her ready. He provided all the spares as well as showing me the basics of 2cv maintenance.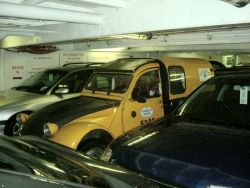 We were in group 3 of the rally leaving with around 50 other cars on Dec 29th so this meant we now had 3 months to get ourselves sorted, fix Marigold up, try to raise lots of money for our two chosen charities, arrange insurance, injections, visas, as well as organising both of our work schedules and many children.
We got it all done and in the afternoon of the 27th December, (leaving early in the light of Marigold's lack of speed) and having been the most absentminded mothers over Christmas ever, we set off for our midnight ferry to Caen, France.
Now, I would like to say we had a good start, but it was terrible....
---
Next: Through Europe to North Africa
---
This story was reproduced with the kind permission of the author, Lucie Mathiszig.
Find out more about Lucie and Andrea's adventure on www.team-marigold.com
The Plymouth-Banjul Challenge is run to raise money for charity. It's not too late to donate to Lucie and Andrea's charities:


Site Savers International
work in the world's poorest countries to restore sight.


Africa Educational Trust
work in Africa to provide educational materials and promote basic literacy.