Ermintrude the Renault 4 - As Bought
I've bought another Renault 4. I've already got a R4, so I don't know why I bought another one. Ermintrude was cheap, and would have gone to the crusher if I hadn't rescued her. Also she is yellow which is the coolest colour. Ermintrude is quite rusty in all the normal places and will require a body off restoration.

This is flattering picture of Ermintrude. Ermintrude was owned for more than 10 years by a gentleman from London who stopped driving her when one of the rear wheels fell off. This is the first car that I have bought where I had to weld a wheel back on before driving it home.
Ermintrude is delightfully scruffy with rust around the front of the bonnet and on all four wings, but she drives exceptionally well and is quite fast.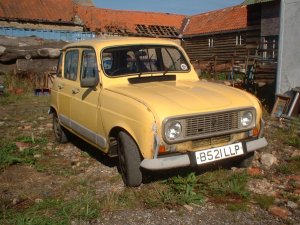 There are a lot of differences between Ermintrude and Rosalie the Renault 4 (built just 2 years later). This car has reversing lights which Rosalie lacks, and Rosalie has side marker lights. This car has a cooling grille in the bonnet but Rosalie has a flat panel.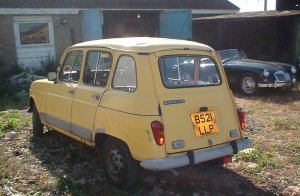 The interior is brown. Is it just me or does brown not go with yellow at all? The interior is in immaculate condition - far better than Rosalie (my other R4). Could they not have found other colour? There is even one of those radio housings that fits onto the heater.
Ermintrude came with a boot full of useful new spares, and various owners manuals and workshop manuals. The manuals included an original factory workshop manual which is full of useful information.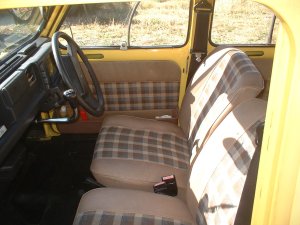 "I am still in cracking form:" - Ermintrude, Magic Roundabout (to Dougal)

The rear chassis is completely rotten, and this suspension mounting had become detached from the chassis. We took a welder with us when we collected the car and welded the mounting back onto the chassis for the drive home (perfectly legal - she had an MOT), although the body will probably have to come off the chassis for a more permanent repair.
All four wings are rotten and there is even a rust hole in the roof, but the floorpan is immaculate.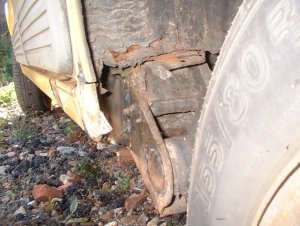 Oh dear, what's happened here? The rear chassis is so badly rotten the only sensible way to repair it is to pull the body off the chassis. Luckily the rust is relatively localised and the main body tub is immaculate so the car will be fabulous once repaired and repainted.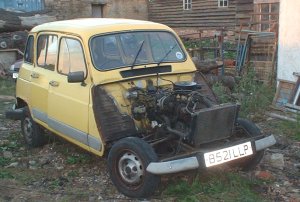 Advertisements

Next - Chassis Welding