Renault 4 Restoration - Completed
Reassembly inevitably takes much longer than you would imagine, but on 22th December 2003, just 3 months after buying Ermintrude she was back on the road. 3 days later she was written off in an accident. She went on to complete a 1200 mile round trip up to Dundee in Scotland, then spent a week in Kelso over New Year.
Incidentally, Clementine recommends Maggie Stuart's holiday cottages in Kelso, Scotland - lovely cottages in a great location, and best of all friendly locals who invited us over to their house for New Year celebrations.
I've noticed that most UK Renault 4s have the number plate fitted over the cooling grille in the bonnet. It turns out that with the grille open the water doesn't get hot enough to make the heater work. I'll reposition the number plate soon.
The front grille is unusual. It's a brand new Renault part and has the later all chrome badge as fitted to the 1990s Renault 4s.
I've kept the car original apart from the radio and aerial, although I did swap the brown interior for a gray interior as I couldn't cope with the original colour combination.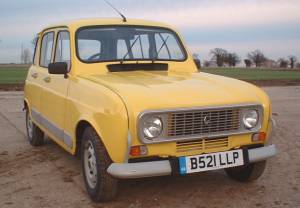 I painted the wheels the same colour as the bumpers as I had plenty of paint in that colour. They look too dark, but I'm getting used to them so probably won't bother to repaint them in silver.
Ermintrude is fitted with snow tyres in preparation for a skiing trip in the Alpes. I could only get hold of 145 snow tyres which make the car a little over-geared. There is a lot of tread noise from the snow tyres which gets louder when the wheels are loaded around corners giving an American cop movie feel to the car.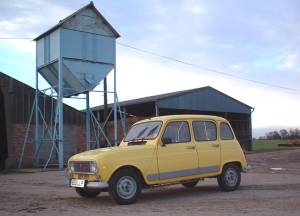 Ermintrude drives exceptionally well. She has a full set of new suspension dampers which transform the ride and handling. The engine is quiet, but there are many happy little noises to keep the passengers entertained. Most of them are caused by a loose baffle in the exhaust.
Mechanically Ermintrude was excellent. The body and chassis needed a lot of work but the engine remained in the car throughout the restoration. As soon as I wash the engine I'll include a picture on this page - I'm keen to show off the inner wing repairs which turned out very well.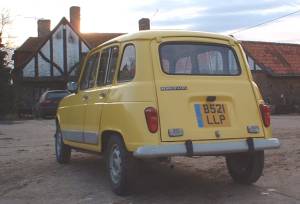 The Crash
Ermintrude was written off just 3 days after the restoration. This is no problem for Ermintrude - she's a hardy old girl and has been written off before and survived.
A Peugeot 306 bumped into me on a roundabout in Sheffield. The driver turned out to be a a really nice bloke and was much more upset about the damage than I was.
I will make a temporary repair using Ermintrude's original (but rusty) bootlid, and then make a more permanent repair with a new boot floor in the summer.
(Edit 5 years later: not sure which summer this will be.)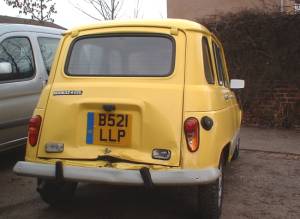 "I'm getting crampy, in an awkward place." - Ermintrude, Magic Roundabout (really!)
---
Ermintrude has a busy schedule over the next few weeks. We plan to drive a convoy of Renault 4s down to the Alpes for a Skiing holiday at the end of February. I've now been talked into a further European tour in January which will take in Koln and Barcelona, as well as snowboarding in the Alpes.
Advertisements