Save Money on Renault 4 Batteries
Frederick the Frog saves Renault 4 owners £15 on their next battery - the one from the Mini works just as well but is cheaper. Just make sure you buy one with a lip at the bottom for the battery clamp.
The standard Renault 4 battery can be bought for about £35 in the UK.
Frederick the Frog has found that the Mini battery fits and only costs £20. (That's the old Mini, not the new fangled BMW one.)
The Mini battery is exactly the same size and power rating but the positive and negative posts are reversed.
Just turn the Mini battery around to fit a Renault 4 (see picture). The battery leads are more than long enough to reach the posts.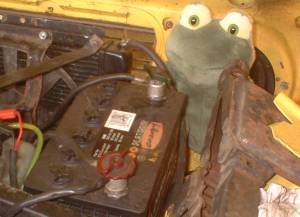 UPDATE> It seems that Mini batteries are secured to the car in a different way to the Renault 4 battery. Most aftermarket Mini batteries will have a lip at the bottom of the long side. You need this for the Renault 4 battery clamp.
Some Mini batteries don't have this feature so you may have to shop around to find one with a lip. Otherwise do what my friend Robert did and use one of my Thule straps to secure the battery.
Back to Tech Tips