Change the oil in your engine
Why frequent oil changes are a very good idea. The oil in this engine had not been changed in several years, which resulted in serious wear and ultimately a scrap engine.
On a seperate page, Frederick demonstrates how to do an oil change.
Removing the rocker cover revealed the state of the engine. Everything was coated with a thick black crust, and a thick layer of oil sludge sat on every horizontal surface. It's difficult to imagine how the oil still managed to circulate around the engine.
The oil and oil filter in a Renault 4 should be changed every 5,000 miles. Not doing so will break your engine as this photograph shows. This engine has since been dispatched to a scrapyard.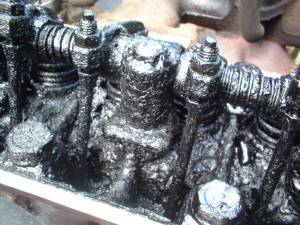 This is what an engine looks like when it's been well looked after. It's the engine from Ermintrude the Renault 4. A very conscientious gentleman from London did an excellent job of looking after the car for a number of years and the engine is like new.
Be kind to your Renault 4 and change the oil.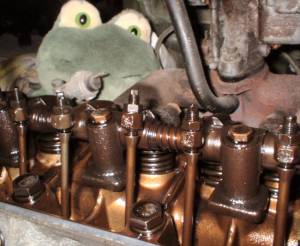 Back to Tech Tips




Réparateur d'automobiles
Engine
Electrical
Suspension
Brakes and hubs
Other
Very technical