Renault 4 Clutch Seizing
Both Ermintrude and Rosalie had stiff and sticking clutches during their trips to the Alps. The problem was worst in cold temperatures, but occurred to some extent in the milder UK climate. This must be a common Renault 4 problem so we asked Fredrick the Frog to investigate.
Frederick found the shaft between the clutch lever (outside the gearbox) and the release fork (inside the box) had seized.
There is a small return spring that pulls the clutch release bearing away from the clutch, but this was not strong enough to overcome the friction from the seized shaft, so the release bearing was constantly rubbing against the clutch backplate.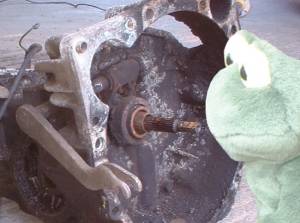 The release bearing had worn deep grooves into the clutch back plate.
Chances are this will have happened to most Renault 4s. Be sure to have a 3 piece clutch kit handy when you next need to replace your clutch.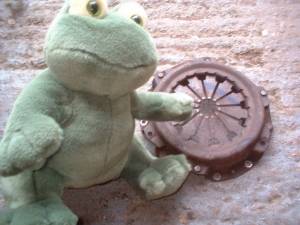 Spraying penetrating fluid at the outer end of the shaft was enough to free it - so there is no need to remove the gearbox.
If the gearbox is removed for a clutch replacement, then it is worth also greasing the main shaft of the gearbox (where the release bearing slides up and down).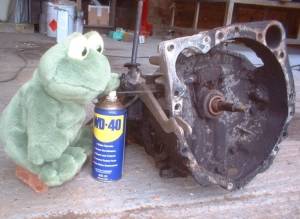 Back to Tech Tips