Fitting Gas Pressurised Rear Dampers
The need for gas pressurised dampers at the rear is covered in the Renault 4 damper selection page. Ian came over with a bouncy car (third set of non-pressurised dampers failed) and Frederick the Frog was more than happy to sell him the Delphi dampers I'd been saving up for my project.
Gas pressurised dampers are supplied with a plastic strap around them. Without the strap the dampers slowly extend to their maximum length and it takes a fair bit of force to compress them again.
The strap needs to be removed before fitting as it doesn't compress the dampers enough, and it stops the rubber mountings and nuts at the end from being removed.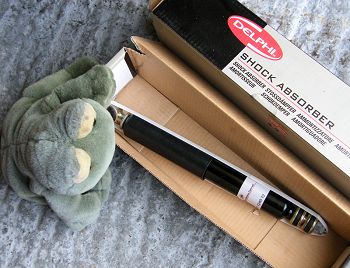 But trying to compress the damper by hand when trying to fit it to the car is close to impossible.
Frederick compressed the damper as far as it would go with one end on the floor and his weight on the other end. Then Ian tied a wire around to stop it from extending again.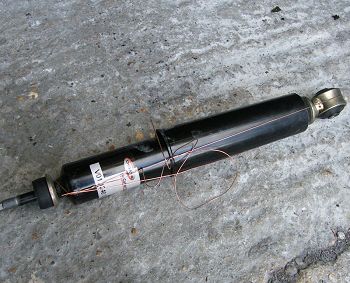 Even fully compressed the damper isn't short enough. A jack under the rear hub extended the damper mountings making it easy to fit the damper in position. Frederick tightened the front nut before cutting the wire.
From there all that remained was checking the metal bush housings lined up with the hole in the chassis bracket, then fitting the rear nuts (that are tightened right to the stop on these Delphi dampers).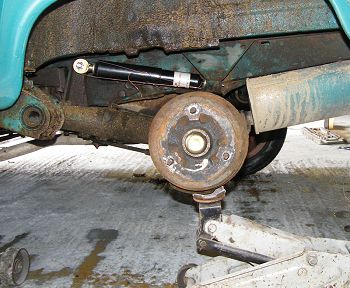 Back to Tech Tips




Réparateur d'automobiles
Engine
Electrical
Suspension
Brakes and hubs
Other
Very technical