Converting Renault 4 Headlamps from LHD to RHD
Right hand drive headlamps are no longer available for a Renault 4. Renault supply LHD headlamps, but these will fail the UK MOT test. Nobody seems to supply headlamps with a sidelight bulb. None of this is a problem - Frederick the Frog has the answer....
I've bought the cheaper headlamps from Der Franzose in Germany. They were LHD and didn't have a sidelight. (Also their cheap ones don't have a E marking on the glass so other countries might need the more expensive ones).
In the photo the headlamp has been modified to RHD and has a hole for the sidelight.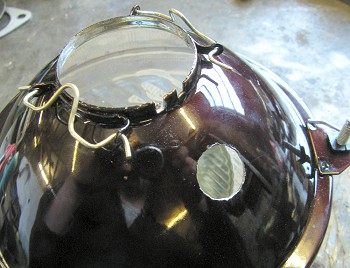 LHD to RHD Conversion
To convert the headlamp from LHS to RHS all you need to do is twist the bulb a little.
There is a locating tab on the bulb that fits into a slot in the headlight. The photo shows a new slot being filed into the headlight using a handy thin file that came with a pack of very handy needle files.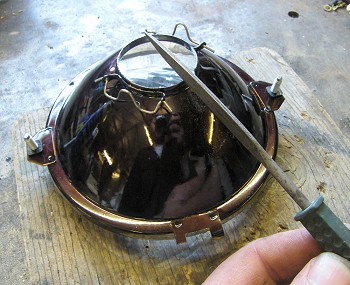 The new slot is to the left of the old slot in the photo. The slots themselves are about 2.5mm wide, and the distance between the outer edges is 10mm (that's based on measurements from Cibie headlamps that offered LHD and RHD).
Having two slots is very convenient. If you ever go to France you can move the bulb back to the original slot and have LHD headlamps again.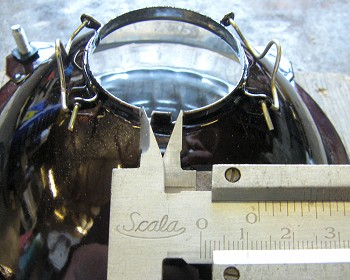 Sidelight
Renault 4s made before 1974 (ish) has sidelights incorporated in the headlamps. Replacement headlamps aren't available with sidelight holes, but Frederick the Frog has a drill.
I tend to mount centre the hole for the sidelights right at the bottom of the headlamp and 25mm from the bend at the start of the main bulb holder. The original position was 30mm, but the original bulb mounting arrangement was also much shorter. The difference is necessary to fit an aftermarket bulb holder in the headlamp housing.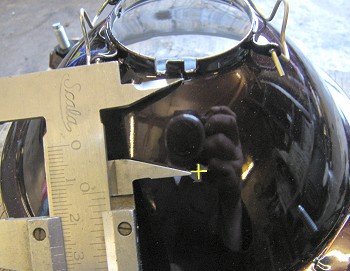 Here's the bulb holder I plan to use. It was commonly used for lighting in the Smiths speedometers and rev counters used in 1960s British cars, and is also available on eBay and elsewhere advertised as a sidelight bulb holder. It takes 2.2V 12V bulbs. The one in the photo is unusually long.
The hole required is just under 16mm. Be very careful when drilling - the housing is made from steel and is easy enough to drill, but the drill bit can grab and smash the glass. A high drilling speed and small increments in drill size are sensible precautions.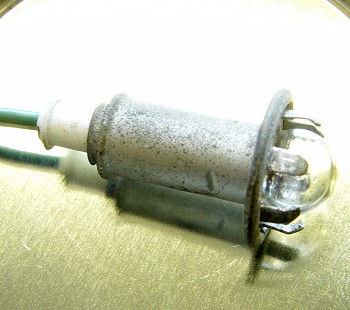 Here's the finished headlamp with the sidelight bulb installed.
I used rubber sidelight bulb holders (available in eBay) which are much better - they are smaller, need a smaller hole, and have 2 wires to avoid earthing trouble through the bulb mounting.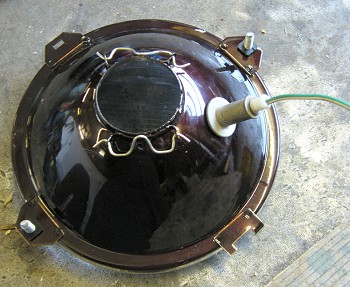 Back to Tech Tips




Réparateur d'automobiles
Engine
Electrical
Suspension
Brakes and hubs
Other
Very technical