Meet Bluebell of the Gendarmerie
Bluebell was kindly donated by a member of the forum for use as spares car, but the general condition is so good I can't bring myself to scrap her.
She'd failed the last MOT on welding. Literally on the welding rather than the rust - repairs made in the past hadn't been all that well stuck on.
Bluebell the Renault 4
The car is almost completely original and hasn't been messed around with in any hard to fix areas, so after restoration should end up as near to perfect as any GTL.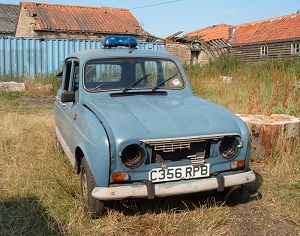 Mostly the rust is concentrated around the front floor area which will need completely rebuilding, but the rest of the chassis appears to be sound.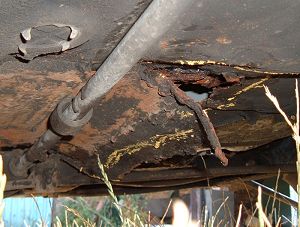 Apart from behind the inner rear suspension mountings of course. These seem to be the achilles heel of the Renault 4. Fortunately I've built a jig for this repair as the bolt holes need to be quite accurately positioned to prevent a leaning Renault.
Incidentally, I've decided the best way to start a restoration is with a good pressure wash. Cleaning the dirt off makes the car so much nicer to work on, and it needs to be done at some point before the underneath is rust proofed anyway.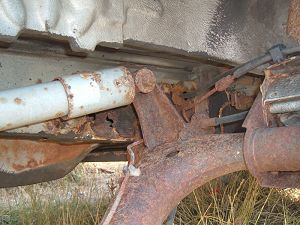 The pressure washer was brand new and a big improvement on the old one which had broken the previous day, so I got carried away. I removed the seats and pressure washed the interior as well.
Everything else missing in the photo was already missing - this was a spares car before I got my paws on it. The parts shouldn't be a problem as I've saved up parts from previous cars I've scrapped.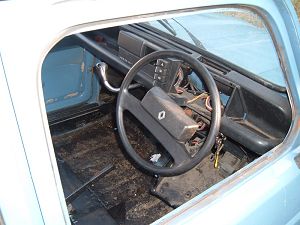 The body condition is excellent apart from a few dents. The exterior panels are all original apart from one front wing, and while the other 3 wings will need to be replaced, the rest of the panels are rust free.
The underneath is still in it's original paint, and even the ball joints and brake pipes are original. I'm not sure of the mileage as the speedo is missing, but I'm guessing less than 50,000 miles.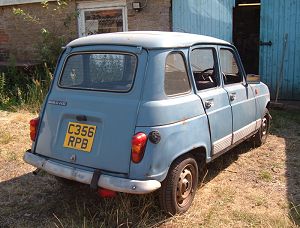 There'll be more soon. I'm hoping I'll be able to avoid any real work for long enough to get this one finished.
Next: Dismantling
Advertisements