Florence - The Early Years
This is Florence the Psychedelic Renault 4 TL before she became Psychedelic.
Florence had been traded in to a local Renault dealer that happened to be run by a family friend. Florence had been owned from new by an elderly gentleman and had covered less than 30,000 miles in 14 years.
My stepbrother Hamish bought the car for £50, and was given a red Renault 4 by his father. The red car was terminally rusty but had good mechanicals and made a good doner.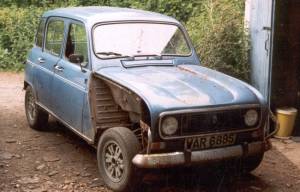 Hamish couldn't find the time to repair the cars and agreed to swap them both for my CD player.
Florence was in exceptionally good condition, but needed some welding in the floorpan. We were a bit rough with her and pushed her onto her side for welding. We did remove the passenger side doors and use a mattress but that didn't prevent dents in the side panels.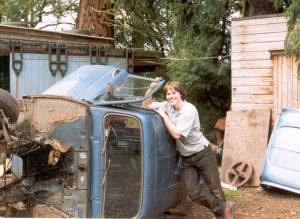 Florence was fine mechanically having covered such a low mileage. Most of the inner and outer wings came from the red car, although I can remember buying one new front wing and one rear wing (£16 and £8 respectively in 1992).
The new front wing had an unfortunate accident on the way to the MOT station. I had forgotten to tighten the wheel nuts and thought she would make it to the garage before the wheel fell off. She didn't....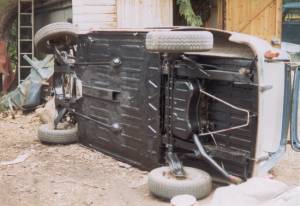 The painting was carried out by a number of us: Robert, Claire, and Louise. We couldn't afford paint, but our families had a great deal of household paint in their sheds, and Andrew cleared out his bakery and provided a little more paint.
The white paint was a household primer, and the colour was a combination of gloss and emulsion paint. The car was finished off by a coat of yacht varnish (which went a little yellow after a couple of years).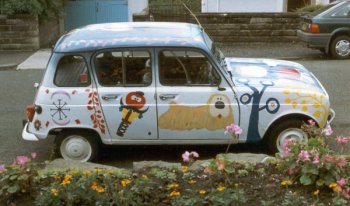 Next > The life and times of Florence the Psychedelic Renault 4