Finally the Project is Finished!
No restoration project is ever finished. Generally after the MOT you just start driving it and forget about all the other bits and pieces you intended to do. For this car there was a delay of 3 months between the MOT and the end of all the engine rebuilds which allowed a bit of time to add things like wheelarch liners.
Now with the car finally running all that's left to do is development. But first some photos before she gets dirty.
She's turned out quite tidy, but that's not going to last for long. One of the downsides of living on a farm is the access track which gets very muddy during the rainy season (which is 11 months long in the UK). It's impossible to keep a car clean for more than 5 minutes around here.
The project started out as a 1967 car so was originally fitted with the narrow grumpy looking front grille and the hard to find bumpers. I upgraded to 1968 spec as I preferred the look and it made the modifications easier.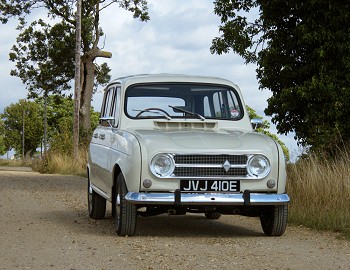 Way back before the start of the project we had a forum thread asking "if you were to build your ideal Renault 4 which features would you take from the various years of production".
The super-cool translucent steering wheel and bench front seat from 1967 were high up on the list. I didn't like the beige dashboard from that year so ended up fitting a later black one. Otherwise the interior has remained remarkably faithful to the 1967 spec.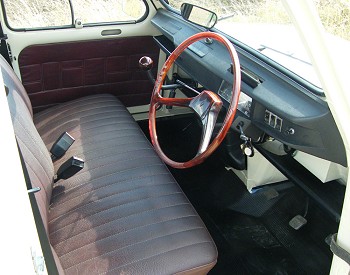 For some reason the Renault 5 Alpine engine was also on that list. It was never an option on the Renault 4 but can be crammed in with a fair bit of work and then made to work following a fair number of engine rebuilds.
I'm not convinced it was a sensible thing to do. A standard 1397cc Renault 5 engine would have been easier to fit, would have been more economical and more driveable, and might have needed fewer expensive rebuilds. Though parts should be easier to find for the Alpine engine as time goes on as they are raced by enthusiasts.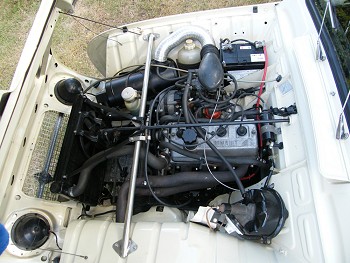 A full length sunroof was on the list. I didn't fit one due to fears of wind noise and buffeting at great speed.
Having since driven a car with the sunroof I have changed my mind and might yet fit one. They are magical in the summer. Any wind noise or drumming issues could surely be cured with a bit of foam and headlining, and a fabric sunroof will reduce booms from other sources such as a Gordini engine.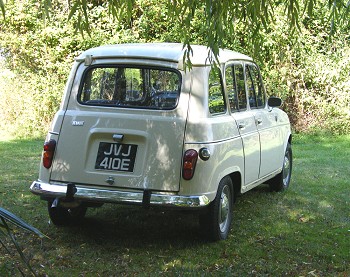 So now she's finished what's she like to drive?
I'm still running in so I can't have fun with the engine. I'm happy with ride, handling and brakes, but the engine isn't completely happy. I suspect the advance springs in the distributor have stretched as the nice setting is different for low speed and higher engine rpm.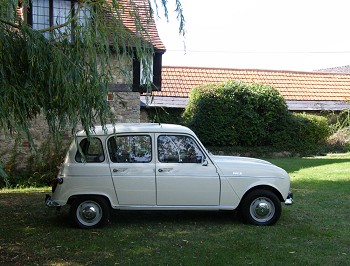 The real (crazy) idea behind this car for me was to make a Renault 4 suitable for long distance motorway driving. I still reckon it's possible to achieve that aim to some extent, but it will take some development now that the car is running.
There is too much wind noise (and I'm trying to figure out out how to reduce this - see the sound proofing page) and there is a very low frequency engine boom that annoys my ears. I half suspect that is because the car is just too well sealed - I might add air venting at the back which will also help ventilation. It could also be because I have a cold at the time of writing.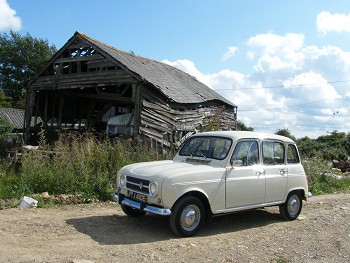 The part of the project I'm most pleased with are the wheelarch liners. We have a horrible access track to the house but the liners have so far taken all of the muck - the rest of the underneath is still immaculate.
Once the engine has been run in I hope that will take over as the best bit. It was fabulous before it came out of the rusty R5 Gordini. It's already smooth with oodles of torque in the R4, but I won't be able to put my foot down until I've at least doubled the current running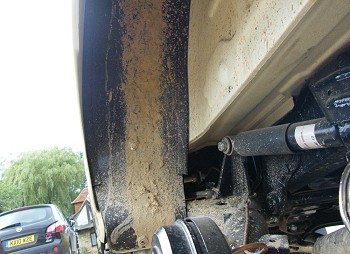 Back to the Gordini Project
Advertisements